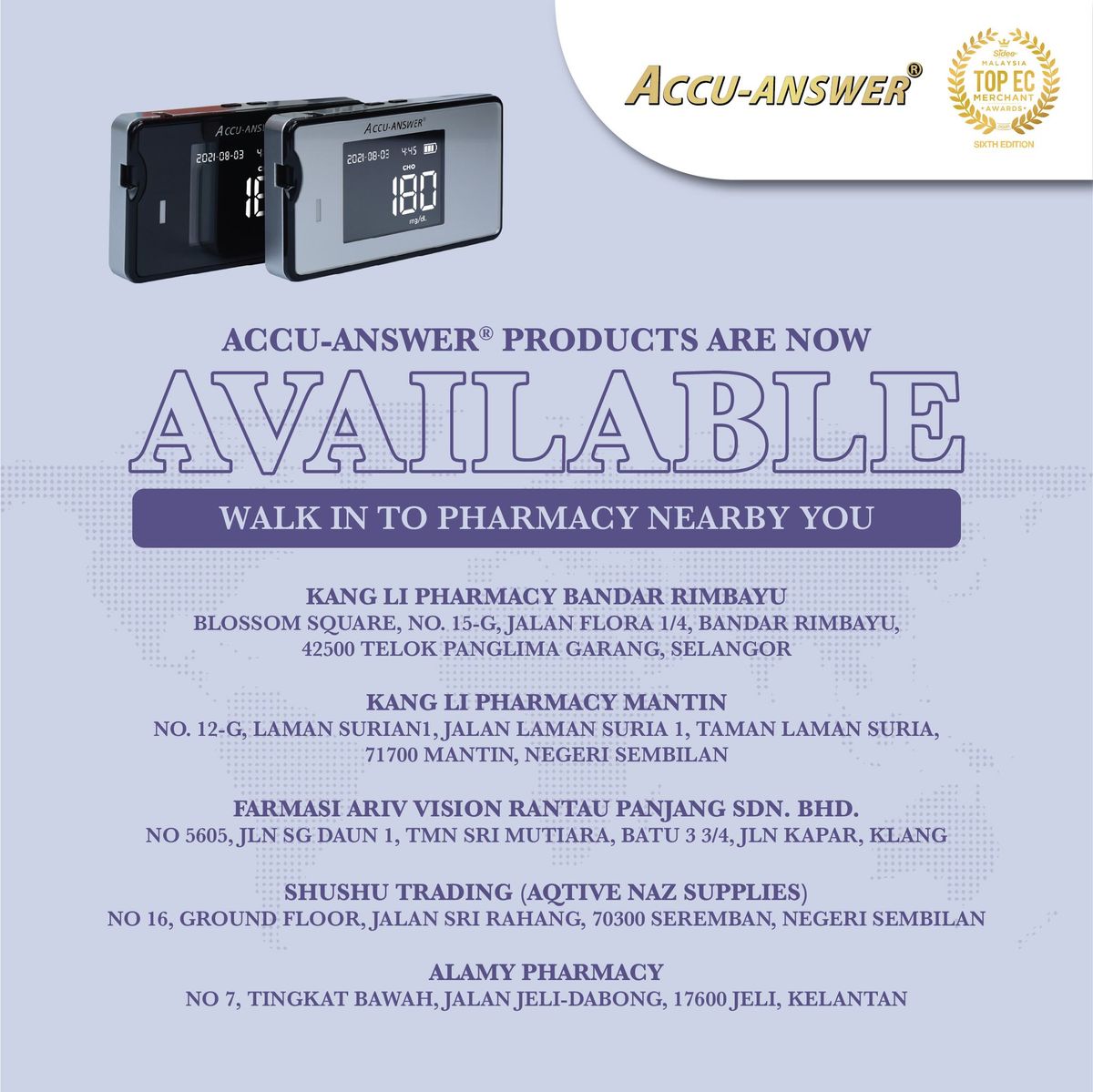 "Where do I get Accu-Answer® products from physical store?"

No worries! Our products are available on:

1. Kang Li Pharmacy ( Kang Li Pharmacy )



. Mantin Branch

N0.12-G, LAMAN SURIANI, JALAN LAMAN SURIA 1, TAMAN LAMAN SURIA, 71700 MANTIN, NEGERI SEMBILAN.

Bandar Rimbayu Branch
BLOSSOM SQUARE, NO.15-G, JALAN FLORA 1/4, BANDAR RIMBAYU, 42500 TELOK PANGLIMA GARANG, SELANGOR.
2. FARMASI ARIV VISION RANTAU PANJANG



NO 5605, JLN SG DAUN 1, TMN SRI MUTIARA, BATU 3 3/4, JLN KAPAR, KLANG.3. SHUSHU TRADING (ACTIVE NAZ SUPPLIES)

NO 16, GROUND FLOOR, JALAN SRI RAHANG, 70300 SEREMBAN, NEGERI SEMBILAN.4.
ALAMY PHARMACY @AlamyPharmacy

NO 7, TINGKAT BAWAH, JALAN JELI-DABONG, 17600 JELI, KELANTAN.
Grab yours now!


With 95% reading accuracy

Lightweight & Portable

Up to 5 years warranty*

MDA Approved

Accu-Answer® isaw® 4 in 1 Multi-Monitoring System: #IVDC7907121-64976


Accu-Answer® isaw® Blood Glucose Monitoring System: #IVDC10120521-75742
Sayangi diri, utamakan kesihatan anda.
AccuAnswer #HealthIsWealth #WeCanMakeAChange #4In1Glucometer #YourHealthMatters